Mercedes-Benz 190SL
Mercedes-Benz 190SL
See Mercedes-Benz SL-Class for a complete overview of all SL-Class models.
The Mercedes-Benz 190SL is a two-door grand touring convertible with an optional removable hardtop that was produced by Mercedes-Benz between May 1955 and February 1963. A prototype was first shown at the 1954 New York Auto Show.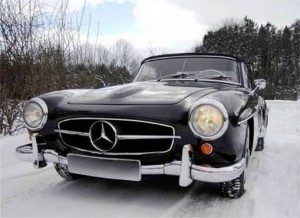 The Mercedes-Benz 190SL was sold alongside the faster, more expensive Mercedes-Benz 300SL, which it closely resembled both in its styling, engineering, detailing and fully independent suspension, both cars having double wishbone suspensions at the front and swing axles at the rear. However, the Mercedes-Benz 190SL did not use the 300SL's purpose-built tubular spaceframe W198 platform, but was built on a shortened and monocoque R121 platform that modified from the W121 small saloon.[2]
The Mercedes-Benz 190SL was powered by a new, slightly oversquare 1.9 L straight-four [5]) or with removable hardtop (DM 17,650/$ 4,295). Optional was a third-passenger transverse seat that could even fit an adult. During its first years the Mercedes-Benz 190SL was available as a sports-racing model with small perspex windscreen and spartan one-piece leather covered bucket seats and aluminum doors, although any competition aspirations were modest. In 1959, the hardtop's rear window was enlarged.
Both the Mercedes-Benz 190SL and the 300SL were replaced by the Mercedes-Benz 230SL in 1963.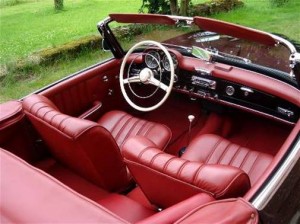 [edit]
Technical data Mercedes-Benz 190SL
Mercedes-Benz
190SL
Produced:
1955–1963
Engine:
four-stroke), front-mounted
Bore x Stroke:
85 mm x 83.6 mm
Displacement:
1897 cc
Max. Power @ rpm:
105 PS (77 kW; 104 hp) @ 5700
Max. Torque @ rpm:
142 N·m (105 lb·ft) @ 3200
Compression Ratio:
8.5: 1, from 09/59 8.8:1
Fuel feed:
twin two barrel sidedraft carburetters – Solex 44PHH
Fuel tank capacity:
65 L (17.2 US gal; 14.3 imp gal)
Valvetrain:
SOHC, duplex chain
Cooling:
Water
Gearbox:
4-speed manual, lever between seats
rear-wheel drive, standard axle ratio 3.90:1
Electrical system:
12-volt
Front suspension:
Double wishbones, coil springs, stabilising bar
Rear suspension::
Swing axle, coil springs
Brakes:
Drum brakes (Ø 230 mm), power assisted
Steering:
Recirculating ball steering
Body structure:
Sheet steel, unibody construction
Dry weight:
1,160 kg (2,600 lb) (Hardtop: + 20 kg (44 lb))
Loaded weight:
1,400 kg (3,100 lb), from 1961 1,440 kg (3,200 lb)
Track front/
rear:
1,430 mm (56.3 in) 1,475 mm (58.1 in)
Wheelbase:
2,400 mm (94.5 in)
Length:
4,290 mm (168.9 in)
Width:
1,740 mm (68.5 in)
Height:
1,320 mm (52.0 in)
Tyre/Tire sizes:
6.40-13 Sport
Top speed:
171 km/h (106 mph)
Fuel Consumption (estimate):
12.5 litres per 100 kilometres (22.6 mpg-imp; 18.8 mpg-US)
[edit]
See also
[edit]
References
This article uses material from the Wikipedia article Mercedes-Benz 190SL, which is released under the Creative Commons Attribution-Share-Alike License 3.0.