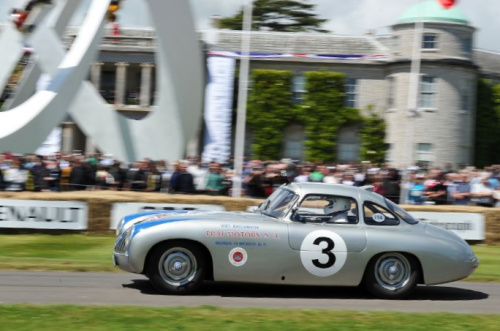 One of a handful surviving original Mercedes 300SL W194 rally cars from 1952
Finally there is a garden party without the usual small talk, with an exquisite buffet, where you have no chance to actually smell the food on offer. The Gurney Pavilion at the Goodwood House is way too noisy for any conversation and the fragrance of burned fuel and rubber from a dozen vintage Formula One cars chasing each other just a few meters away from you is far to prominent to give the food any chance.
This 1937 W125 Silver Arrow is even more rare 
 As soon as the race cars have vanished, your hopes for some fresh air and calm moments are shattered by the onslaught of at least a dozen motor cycles of various vintage, followed by even noisier rally cars of all ages.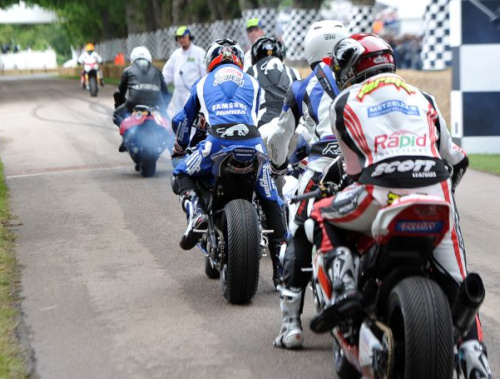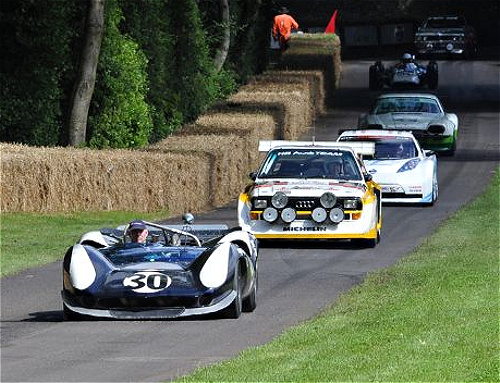 If this is not your kind of environment, you better stop reading here, because I promise you, it will get worse. But if you are like 185,000 other spectators, who do not mind to stand on muddy grounds, sipping expensive French champagne from plastic cups, while the British Air force and even modern Formula One cars seem to have a field day, harassing your cerebral cortex, please read on.
Where in the world can you celebrate a race (albeit a very short one only) that offers a Rolls Royce as pace and safety car. It is like if the air race in Oshkosh would have Curtiss Jenny's chasing around the pylons instead of the usual P-51 Mustangs. Or where in the world would you see a military band playing "God save the Queen", while marching down the race track, which happens to be a short 1.9km (1.2miles) long course with a long line of straw balls adjacing its sides in order to protect the driver and the spectators, should one of the old (or new) cars veer off course.
But contrary to the Goodwood Revival, which is the second such event and happens every year in autumn, the June Festival of Speed is not only about old cars, it is from its inception in 1993 a commercialized motor show. The short race is called "hillclimb", it offers just two curves and when the founder of both events, Charles Gordon Lennox, better known as Earl of March and Kinrara or just Lord March, invites to join the show, everybody who is a VIP in the racing car world, comes running. No wonder racing legends like Sir Stirling Moss, Hans Herrmann, Emerson Fitipaldi, Jackie Stewart or Klaus Ludwig are regular guests. But also the present Formula One elite makes it a point to show up on a regular basis.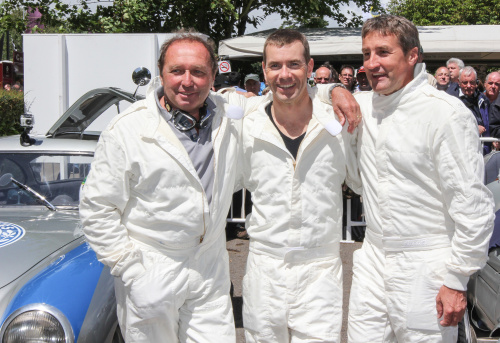 From left to right: Jochen Mass, Paul Stewart (son of Jackie Stewart) and Bernd Schneider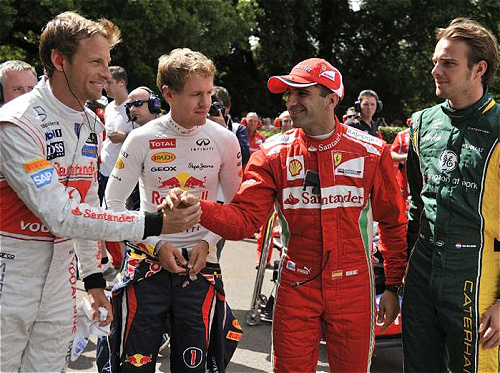 It is the unique concept of mixing old and new, racing and exhibition that makes the event popular not only with the ever increasing number of guests, but also with car manufacturers, which gladly send the best their museums and race departments have to offer. So if one wants to mingle between a 1934 Maserati 8CM, a 1937 Mercedes W125 "Silver Arrow", a Ferrari 250MM from 1953 or a 2012 Audi R18 e-tron, then this is the place to be.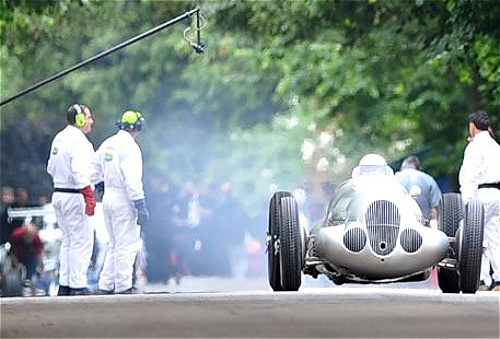 The spectacular 1937 W125: What a sound and what a fragrance
The 2012 event, which ran from June 28th till July 1st had the slogan "Young guns – born to win" and celebrated young race drivers, bike riders, designers and engineers, who surprised the establishment. It marked the 60th anniversary of lotus engineering and had a special exhibition to commemorate the Diamond Jubilee of Queen Elizabeth II. Mercedes-Benz, for many years already a regular participant in the festival, entered this year not only with the legendary W125 Formula one car. As a reminder for the Mercedes SL's 60th anniversary, its founding father the 1952 300SL W194 was brought along together with the oldest existing Mercedes 300SL with chassis number 2 (number 1 was unfortunately scrapped back in the 1950s).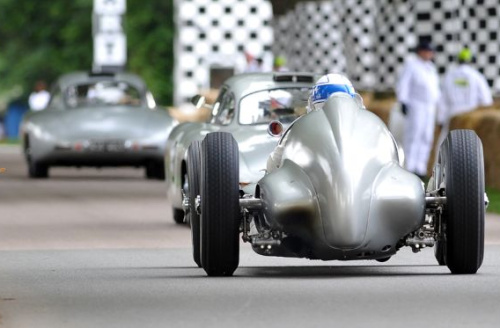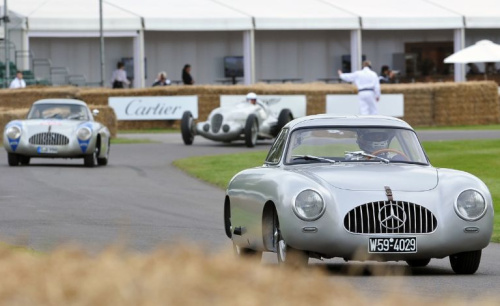 But as Goodwood is not only about vintage cars, a more modern 1997 CLK-GTR and even the not yet launched CLS Shooting Brake were made available also. All of those cars were piloted on the famous hillclimb by famous drivers such as Jackie and Paul Stewart, Jochen Mass, Klaus Ludwig and Bernd Schneider. All in all over 140 racing drivers, riders and various celebrities pushed with more or less success everything from early Grand Prix vehicles, contemporary race cars and motorcycles to off-road and endurance machines around the track.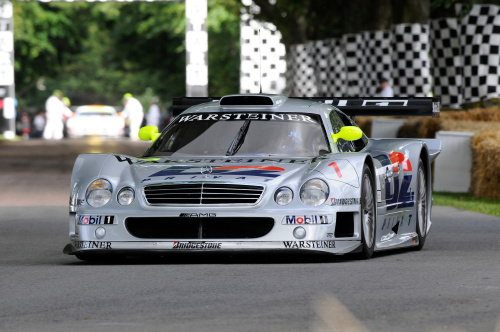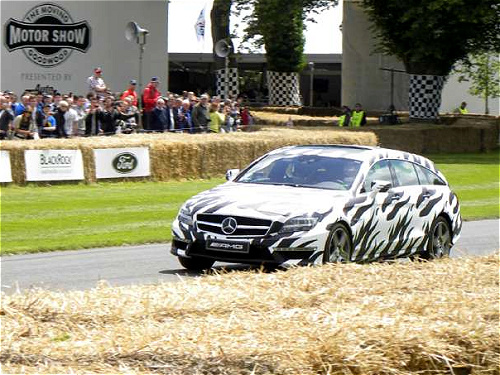 Did the CLS come straight from a safari?
To honor Queen Elizabeth' 60th anniversary, Mercedes had sent a rare 600 Pullman Landaulet to Goodwood. This very car was used by Queen Elizabeth II and Prince Phillip on their visit to Germany in 1965. But naturally it was not only Mercedes that honored the Queen. Next to various special bodied Rolls Royce cars, an ultra rare 1972 4-door Citroen SM Opera Landaulet, built by Henri Chapron for then French President Georges Pompidou and an equally exciting 1950 Lincoln Cosmopolitan "Bubbletop", which was used by American Presidents Harry S. Truman and Dwight D. Eisenhower, made their way to Goodwood.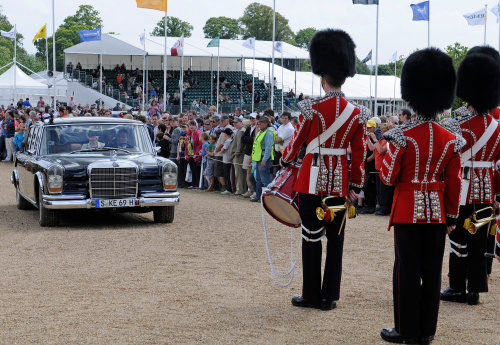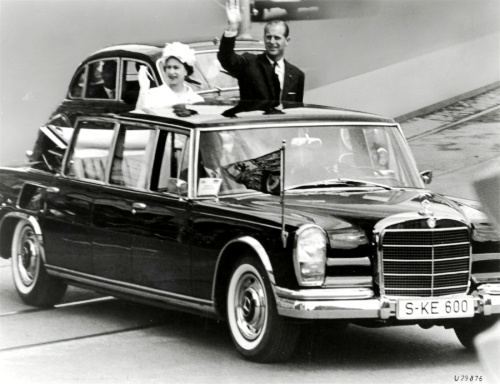 Queen Elizabeth II and Prince Phillipe visiting Munich in that car in 1965 (both pictures courtesy of Daimler AG)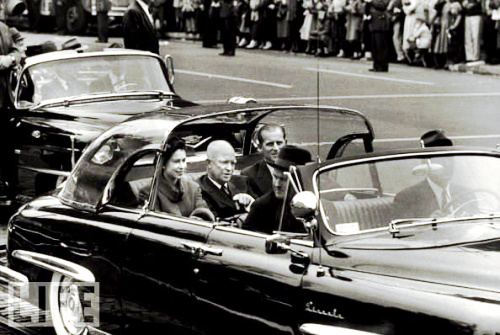 With President Eisenhower in the Lincoln Cosmopolitan (courtesy of Life Magazin)
Goodwood offers a unique environment, it is not only the race or vintage car that excites you. If it is not raining, it is fun to walk past many small stalls that offer anything from a self-cleaning Jacuzzi to old-fashioned British garden chairs. While the British Air force tries to make you deaf with a thundering low overpass of Tornados and Eurofighters, the British military displays an impressive arsenal of weapons, where you can offer your kids a firsthand experience in firing a real machine gun (hopefully not with life ammunition). Unfortunately this year my favorite British bomber with a highly distinctive howl, the delta wing Avro Vulcan XH558 from the early 1960s, did not make it  to greet the crowd for a lunchtime flyby due to engine problems.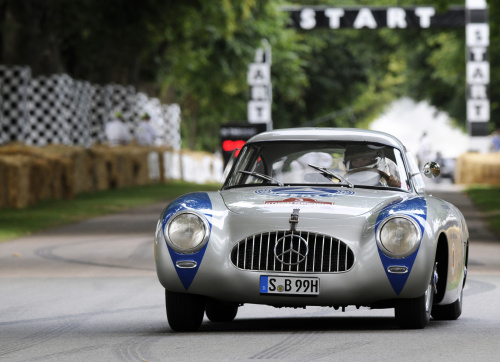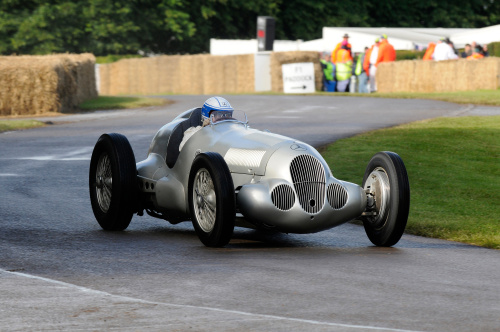 (both pictures courtesy of Daimler AG)
 So in case you want to see and meet VIPs such as Jackie Stewart, Jenson Button, Sebastian Vettel, and want to experience the thrill listening to the unique sounds of vehicles from a 1,300 hp Kenworth T2000 "Pikes Peak" truck to the Audi R18 e-tron, that had just managed to win this year's Le Mans race a few days back, you better make room in your 2013 calendar already. It's an event you sure don't want to miss, never mind the fish and chips and warm champagne in a plastic cup.
If you want to read more about the Mercedes 300SL, the 600 and other Mercedes models of the 1950s and 1960s, all of that is covered in my books and e-books and can be ordered from my website. They offer next to the cars' history the experience to own one of these great vehicles and have plenty of color pictures, most of which have never been published in a book before. I am sure you will enjoy.