The initiative to build one of the most exciting executive sedans of the 1960s did not come from Daimler-Benz, it came from a German automotive magazine (auto motor und sport), whose editor Hans-Ulrich Wieselmann lamented that Mercedes-Benz was building great, but not very exciting cars suited for executives, farmers and retirees.
Mercedes 300 SEL 6.3, 1970
 Erich Waxenberger, engineer in Rudolf Uhlenhaut's department, had enough of the Mercedes bashing and decided to do something about it, but initially without the knowledge of his boss. The end of this experiment is known to all of us: a mixture of the slow selling 600, from which it received the power plant and the equally disappointing six-cylinder 300 SEL, which served as donor of the body and frame. But first tests were done with the engine planted in a 250 SE Coupe W 111 body, which had, as Waxenberger once said in an interview to a German journalist, fallen of the assembly line. As soon as the car was drivable, Uhlenhaut heard about it and naturally wanted to test it. But Waxenberger instructed his colleagues to dismantle the brakes, so that Uhlenhaut could only drive it, once it was capable of surviving his relentless testing. (in case you are interested in the full story of this early V8 adventure, it's available in my book and my e-book)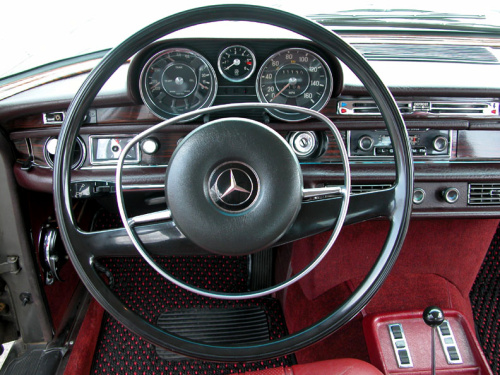 The Mercedes 300 SEL 6.3 was the only Mercedes sedan at that time that offered a rev counter. The clock had to be moved to the lower left dashboard
Although the sales department did initially not believe in a commercial success (they claimed that not more than 50 could eventually be sold), the 300 SEL 6.3 filled the niche it had created, most successfully. It was not as big as the 600 and it was not as slow as the 300 SEL either. Driving the 6.3 meant to enter a different, most exciting world and it was no wonder that magazines such as Road&Track saw in it simply the best car in the world.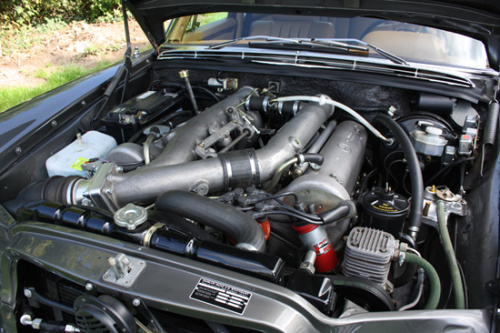 The engine came straight off the 600
With 250 hp at 4,000 rpm, a compression ratio of 1:9.0 and a maximum torque of 51 mkp (368.9 ft-lbs) at just 2,800 rpm, the engine offered plenty of grunt to be content with. Average fuel consumption was quoted to be around 21 l/100km (11.2 mpg), but most journalists easily managed to bring that figure to some 30 l/100km (7.8 mpg). Despite its dry weight of 1,830 kg (4,000 lbs), it could accelerate in 7.4 seconds from 0-100 km/h (faster than a Porsche 911S and a Ferrari 330GTC) and it achieved a top speed of 121 km/h (137 m/h). The powerful engine offered tremendous agility, a surprisingly smooth operation over a wide rev band. And if your wallet was up to it, the car would not mind to cruise at high speeds for hours.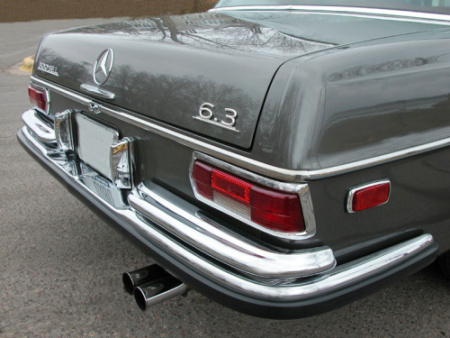 There were very few sedans in the 1960s and 1970s that were able to follow a 6.3
The 6.3 was a marvel, but it was not only the engine that thrilled its drivers. For a Mercedes, it was also fairly lavishly appointed. It offered power windows, vacuum-controlled central locks, a rev counter and velours upholstery. Leather seats were optional. The wood on the dashboard and window surrounds was now burr walnut and other wood veneer options such as macassar ebony could be ordered. It had a limited slip differential and at the front US-style headlights with halogen bulbs. These headlights quickly became synonymous with the 6.3, as they offered plenty of prestige on a German autobahn. Much to the dismay of many 6.3 owners, Daimler-Benz offered the same headlights later on as an option also on the lesser (slower) S-class models. So that "autobahn-prestige" quickly vanished.
US lights from 1968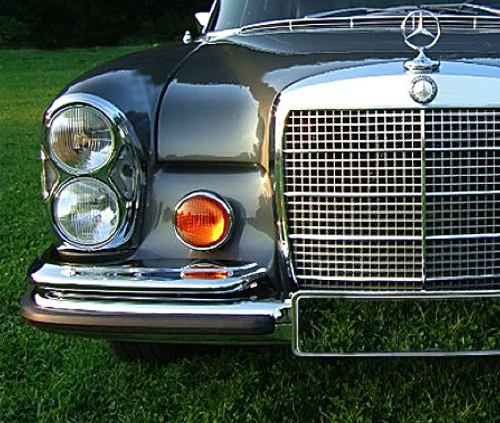 And from 1970
In Germany the Mercedes 300 SEL 6.3 was offered at 39,160 DM ($9,790.- at contemporary exchange rate), which was definitely not cheap. While the car cost $15,120.- in the US, it was even more expensive in the UK. It cost almost 7,700.- GBP ($18,500.- ), once the taxes had been factored in. But compared to a Maserati Quattroporte or even a Bentley T, that price looked reasonable again, even when options such as leather, air-conditioning and sunroof had been added. The Jaguar XJ 12 was no competitor, as it was only introduced in 1972. In 1971 the Mercedes 300 SEL 6.3 was replaced in North America first with the 3.5 l and one year later the 4.5 l. In Europe and the rest of the world it was sold till 1972. Despite initial fears from the sales department, the 6.3 proved to be remarkably successful, as 6,526 cars found a buyer.
A 1969 6.3 model with steering wheel from a W116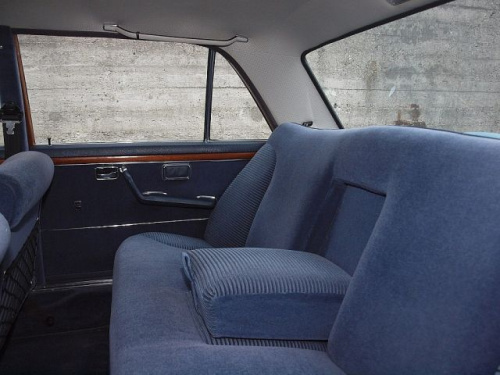 The velour upholstery still had its old, nice looking design from the 1950s. It was slightly changed in 1970
 If you want to read more about the Mercedes 300 SEL 6.3 and the other Mercedes W108/109 V8 models, here is the link to my e-book and book. I am sure you will enjoy.