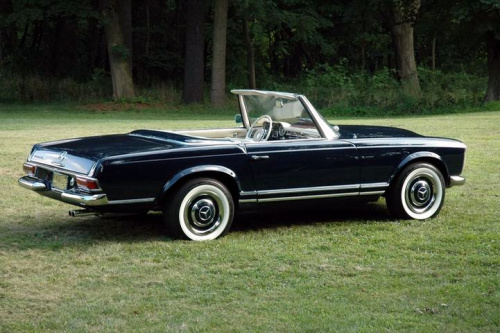 The early 1960 were a prosperous era with many different car models to choose from. Mercedes faced the difficult task to replace both the mighty 300SL and the 190SL with just one single successor. And in order to generate some buzz before the official launch at the Geneva Motor Show on March 14, 1963, management decided that it was a good idea to present the car to a selected group of journalists prior to that event. That way their reports were out before the official release date of the car and the public would be even more interested. Before the car was shown, no journalist knew of course whether it would be a new 300SL or a new 190SL. Naturally they hoped for the first. When Professor Fritz Nallinger, chief engineer and member of the Daimler-Benz board unveiled the 230SL, known internally as W113, it was for a few of them some kind of shock. The roof was rather unusual to say the least. But not only the roof created surprise, it was also the car's engine displacement. A 2.3 l sports car? And for such a price?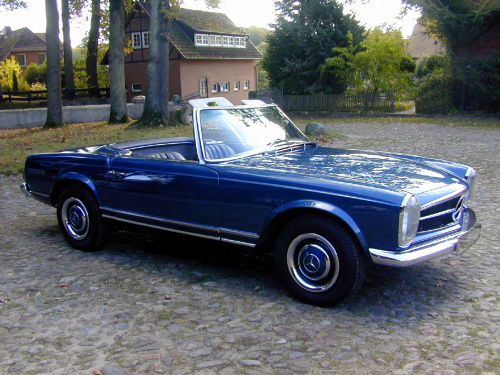 Mercedes 230SL, 1964
 Daimler-Benz management of course knew what they did. The 300SL was a perfect image booster, but it never made any money for the company, on the contrary. The 190SL Benz on the other hand was seen as a bit too slow. So the new 230SL was planned as a high-performance touring sports car with excellent driving characteristics, which can carry two passengers plus their luggage in style, comfort and above all safety. Add to that the Mercedes-Benz quality and they thought the car would sell quite well. So well indeed that they eyed for an export share of almost 80 percent.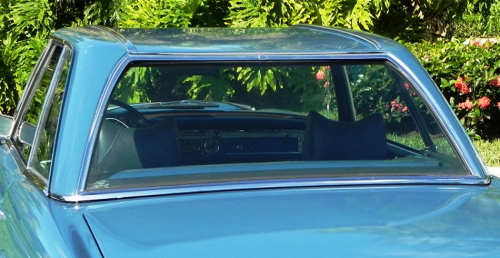 But the roof was something to get used to. Erich Waxenberger, engineer in Rudolf Uhlenhaut's department, first thought that a tree must have fallen on the car's top. But the idea was not developed by accident, it was after some thorough studying that Mercedes safety guru Bela Barenyi came up with the idea to test a concave roof design. He had it tested first on a sedan to be used as platform for photographers, so that they could get an elevated view taking their pictures. Then he approached his colleague Paul Bracq to come up with a design to make it suitable for production. Then the idea needed to be sold to the executive board. That was one of the more difficult jobs. So they approached their boss Karl Wilfert. Extremely strong willed, he was known to make the impossible possible.
That the roof was a slight nightmare from an aero-dynamic point of view was conveniently overlooked. It just looked good and today everybody with just a slight interest in cars knows the name Mercedes SL Pagoda. Mercedes never officially called the car "Pagoda". That name came first up in Austrian and French magazines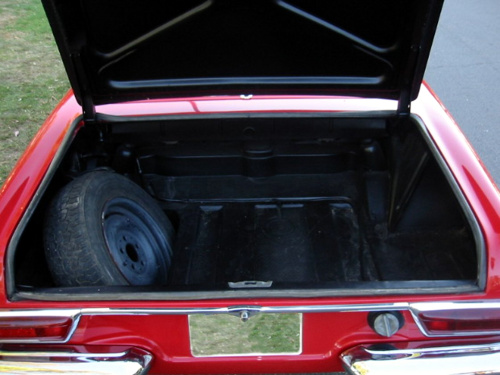 1964 Mercedes 230SL, with smaller fuel tank and upright spare tire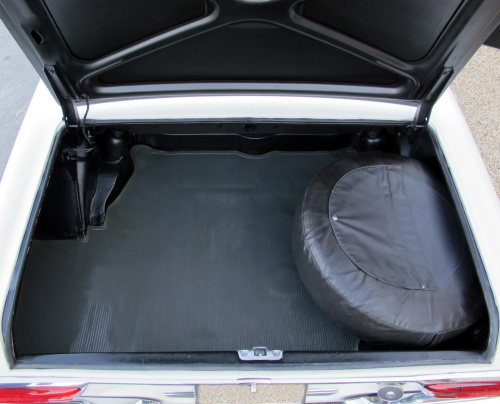 1966 Mercedes 230SL with larger tank and flat mounted spare tire
Although many technical features of the car were known already, it was its combination and the improvements that made the car special. The chassis offered re-circulating ball steering and a dual-circuit brake system. Girling disc brakes were mounted on the front axle, while vacuum-assisted Alfin drums were added to the back. For the first time such a car could be ordered with power steering and most surprising for most European journalists: an automatic transmission. Shocking!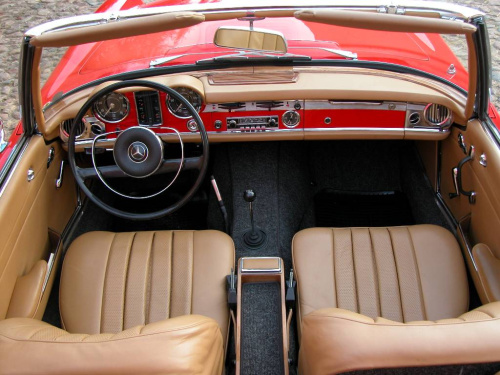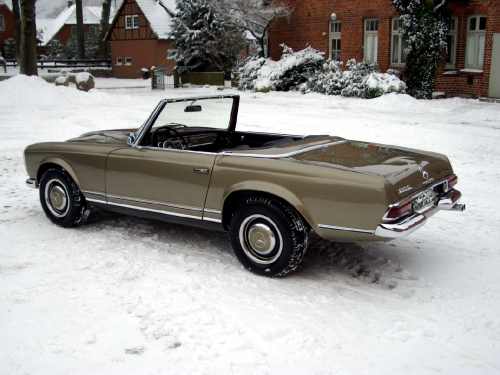 It was not just the press, which was surprised, it was the same with most European customers. A sports car in combination with automatic transmission was for them just not thinkable. So it was no wonder that only a few Mercedes SL equipped with automatic were sold in Europe. Americans of course thought differently, most of their cars were equipped with automatic transmission, so this extra for the Mercedes SL made absolute sense to them. And as the North American market was essential for the success of the car, this offering was needed.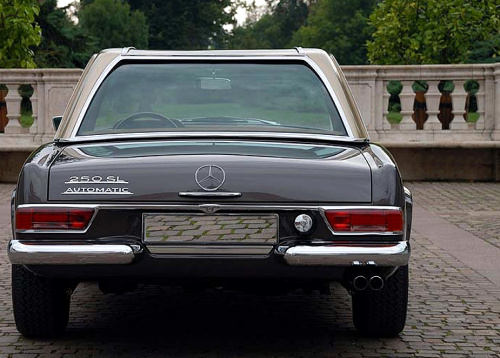 Standard equipment was a four-speed manual with a 3.75:1 gear ratio. It was the same that was used in the 220SE sedan, but with a shorter first gear for faster acceleration. As this was not universally appreciated though, the manual transmission of the new 250S/SE was adopted in 1965.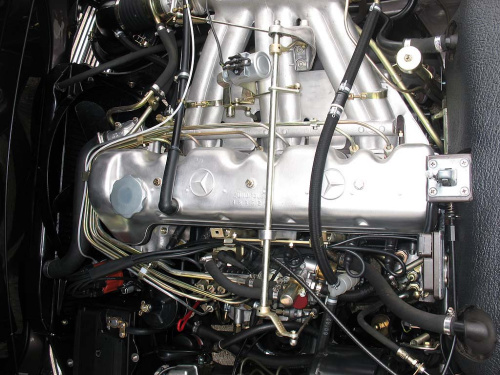 1967 Mercedes 250 SL engine
 Two years after launching the six-cylinder 250 sedan series, the 230SL was upgraded to the 250SL. Its larger engine had the same power output but it reduced the rather modest performance at lower revs. Unfortunately it suffered from reliability problems at prolonged high speeds. This issue was quickly addressed by Mercedes, but at the same time the car became also known for its relatively high fuel consumption. After only one year it was replaced by the larger and more powerful 2.8 liter engine of the Mercedes Benz 280SE. It offered 170 hp at 5,750 rpm and delivered more low-end torque and improved fuel economy.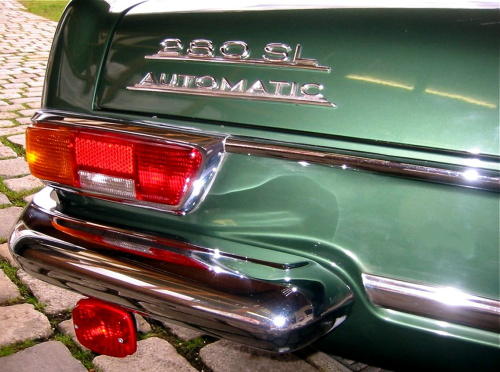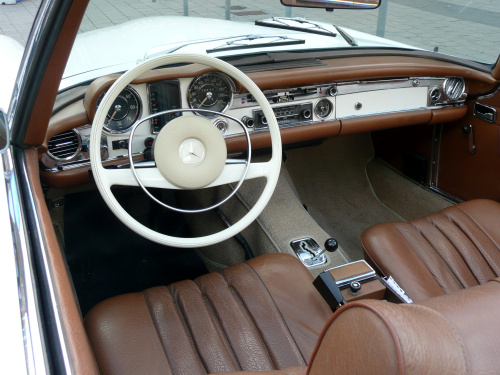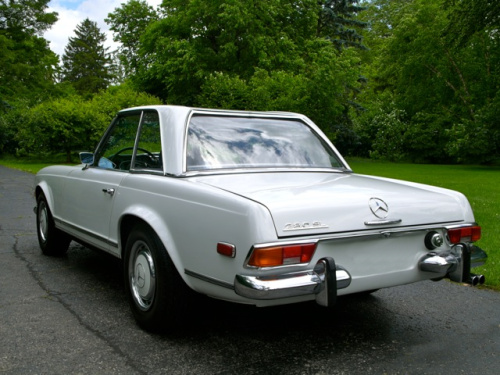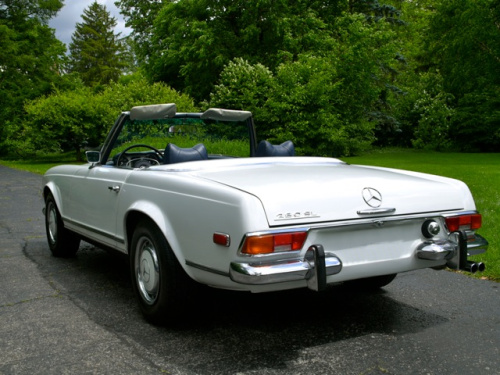 While the 250SL was with a base price of 22,800.- DM ($ 5,700.-) only slightly more expensive than the 230SL, the 280SL was DM 1500.- ($ 375.-) more expensive. In the United States it cost around $ 7500.- without extras. People did not mind however, they appreciated the latest package and made the 280SL the best selling version of the three. In its five years, the 2.8 l Mercedes SL was able to sell 23,885 units, more than half of them went to North America. The 230SL sold for a similar period 19,813 units. The rarest bird is naturally the 250SL with just 5,196 units sold.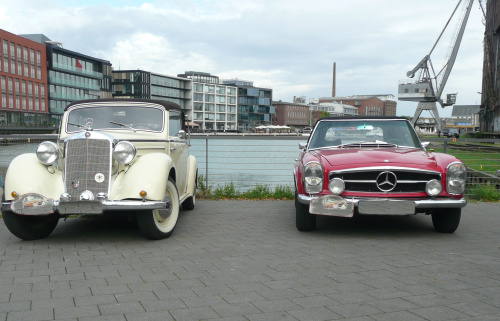 280SL, 1970, and a beautiful 170S Cabrio B, 1952
 If you want to read much more about this pagoda Mercedes SL and other Mercedes models of the 1950s and 1960s, all of that is covered in my books and e-books and can be ordered from my website. They offer next to the cars' history the experience to own one of these great vehicles and have plenty of color pictures, most of which have never been published in a book before. I am sure you will enjoy.